Student-Connect Program Launch
Stirlings to Coast Farmers looking to the future with WA College of Agriculture, Denmark partnership
SCF CEO, Christine Kershaw, along with staff members Kathi McDonald, Nathan Dovey and John Blake, launched the new Student-Connect Program with a presentation to students and staff at the WA College of Agriculture, Denmark on Friday May 11.
"SCF is proud to support young students who represent the future of our agricultural industry by providing opportunities to connect with local farmers and encouraging them to take up careers in agriculture", Dr Kershaw said.
"The program includes a membership package enabling the students to learn about SCF research trials happening in the area and to learn more about their career options in agriculture through lectures, presentations and interactions with SCF staff, members and sponsors", said Dr Kershaw. "We are also offering an annual $2,000 scholarship award for a local student to provide them with the opportunity to undertake further training related to agriculture. It is hoped the initiative will create closer connections between farmers and students and this will hopefully lead to more young people considering a career in the local agricultural industry".
If this initiative works well for our members and the students, SCF will consider extending the free Student Membership offer to other local schools with an Agriculture focus.
For more information and to keep up to date about this exciting new partnership see the Stirlings to Coast Farmers website at www.scfarmers.org.au or visit our Facebook page, www.facebook.com/Stirlings2Coast.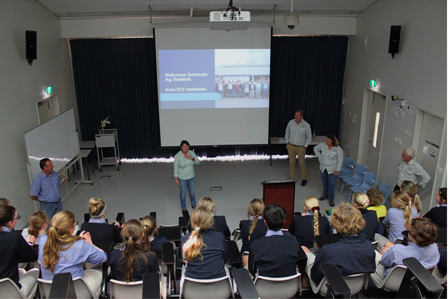 SCF staff presenting the Student-Connect program to staff and students of the WA College of Agriculture, Denmark.
SCF Staff - Dr Christine Kershaw, Dr Kathi McDonald, Nathan Dovey and John Blake, with teacher, Stuart Irwin, and students of the WA College of Agriculture, Denmark at the launch of the new Student-Connect program.